For much of my life I struggled not only to love myself but to simply like myself. I remember being in elementary school sitting on the swings looking down at my legs. I hated them. They were too big. And over the next few years many distorted images of who I was clouded my mind – I wasn't smart enough, or pretty enough, or thin enough. Some of these images still try to inhabit my mind but they don't consume me the way that they did. My unhappiness with myself and need for validation from others led me to a life of people pleasing and unhealthy relationships. I dated men, boys rather, that would put me down, who seemed to find satisfaction in making me feel small. I would give them my everything and find myself feeling empty and unappreciated. Although my heart was fragile it was never handled with care and sadly I kept giving it people to misuse it and take it for granted. I was in one relationship for several years that literally broke me and brought me to my lowest point. I became detached from many of my friends and my family, completely lost my sense of self and believed him when he said no one would ever want me and that I was nothing. He never physically put his hands on me but he beat me up with his words constantly. He'd tell me to leave or I'd leave on my own but I always came back.
Eventually I got the courage to leave for good but not long after found out I was pregnant. I spent the majority of my pregnancy in tears. The man who had proposed to me a year before this happened, now said he'd take me but didn't want us. Instead of him my mother was the one to hold my hand and then somehow overnight things changed. Looking back I realize that the change was not genuine it was temporary and part of his efforts to get me to come back. Needless to say I did. I even married him. I was terrified and literally felt like I had signed my life away but at that time the idea of my child growing up without a daddy terrified me even more. I knew that so many of the choices I made in life were because I was searching for something I felt I was missing because I wasn't close to my own father (at the time).
Then something happened. I gave birth to an angel, my angel and my life changed in so many ways. It was almost as if I had given birth to a new me too and I had finally found my voice. I was no longer the timid scared person that I was. I began to stand up for myself. I refused to quit college despite his demands that I did and I stopped catering to his needs. I decided that I wanted more for my daughter and I wanted more for myself. He wanted a family but he didn't want to have the responsibility of taking care of one. She had I were valuable and yet somehow he just didn't see it. I gave it one last try so that I could say, if she ever asked, that gave it my all and when things remained the same I ended it. I put myself and my daughter first.
I often think of my child as the agent of change in my life. I can't help but wonder what path I would be on had I not had her. When she came along I found my voice, I found the ability to love myself enough, enough to realize that I deserved more and so did my child. I kept going to school, I worked part-time and with the support of my mother I raised my daughter. I graduated with her cheering me on and went back for my Masters degree. So many people thought that he was going to be the demise of my life. He almost was. I had become a statistic and yet God allowed something so beautiful so precious so good to come out of all of this.
Through my child I learned what love really meant and what it felt like. I believe the love I was able to feel for her, greater than any love I had ever known, prepared my heart for the love we would receive from the man who wanted us, both of us, not just me. The man she and I married.
My greatest gift is my child. Not just because she adds more joy than I could ever imagine into my life or because her smile makes my heart sing but because until her I was on a path in which I was destined to self destruct. I had no hope and no plan, I was simply going through various motions in hopes to get someplace.
In being her mommy I somehow found the strength and the ability to love myself enough and trust that God and my love for her would help the two of us to make it without him. My baby was my saving grace. Until her I was simply going though life but I wasn't living.
She is my angel. She is my joy and my agent of change. She is the love of my life and she is my gift. The best gift. Ever.
"Every good and perfect gift is from above…" – James 1:17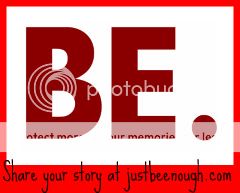 Photo of the two of us when "we",as she so adorably referred to it, were going to college.
Tweet